$9.5 Million Upham Beach Project Has Begun
St. Pete Beach Today
August 10, 2017
Permanent rock T-groins will replace temporary tubes to slow beach erosion at north end of St. Pete Beach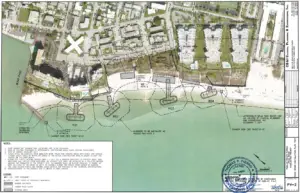 Upham Beach to receive permanent T-groins; project scheduled to begin Aug. 1
Test of temporary  T-groins determined effectiveness of $9.5 million project funded by state grant and Tourist Development Tax
Work will temporarily close half of beach at one time during seven-month project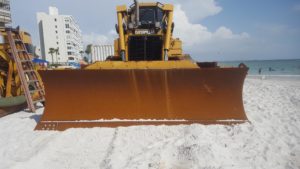 The $9.5 million permanent T-groin installation project will slow erosion at the popular beach, located at the north end of St. Pete Beach. Currently, yellow sand-filled tubes form five T-groin structures on the beach. Those will be replaced with four rock T-groins during the project, which is scheduled to be completed by February 2018.
The work on the beach will proceed from the south to the north, with no more than half of the beach closed to the public at one time. More sections of the beach could potentially be closed for short periods as a safety precaution, depending on construction activity.
The temporary sand-filled tubes were installed in 2005 to test their effectiveness in slowing beach erosion at Upham Beach, one of the fastest eroding beaches in the state. The Florida Department of Environmental Protection reviewed the results of the tests and agreed that the structures are effective and will provide improved storm protection, slow erosion and save money over time through reduced need for nourishment of sand.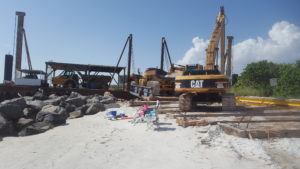 The project will be paid for using Tourist Development Tax funds dedicated to beach nourishment, with 50-percent of the total cost to be reimbursed from a state grant.
Pinellas County's Environmental Management Division—a division of Public Works—is responsible for coastal management projects, including beach nourishment and stabilization projects. These projects align with the County's strategic goal of practicing superior environmental stewardship by preserving our beaches, and protecting and improving our water quality.
---
Here are some other blogs you may be interested in:
Follow Us on Social Media
Make sure to follow us on Facebook, Instagram and Twitter so that you can always stay up to date with breaking news and updates about the 60th Anniversary events as well as daily city news and photos.