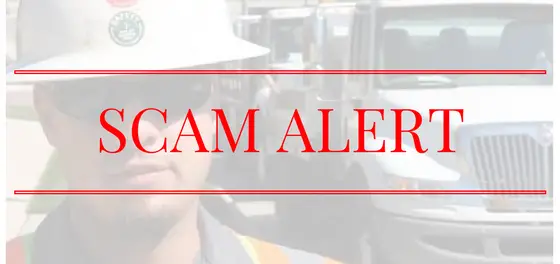 Beware Of Scammers Posing As Utility Workers
St. Pete Beach Today
May 8, 2017
Pinellas County Utilities is warning residents about a scam targeting citizens that involves people going door-to-door posing as employees of a utilities department.
Detectives with the Pinellas County Sheriff's Office say they are investigating the cases involving two men posing as employees of a water department informing victims of a water leak in their homes. Upon entry, one suspect distracts the residents while the other suspects steal valuables, such as jewelry.
Over the past 11days, detectives say they have heard of three cases involving senior citizens who live in the City of Seminole and the City of Redington Beach.
The suspects are described as two men 40 to 50 years of age. The first suspect is described as having a heavy build with a beard and possibly wearing glasses. The second male is described as white male with a slim build. The suspects were seen leaving in a newer model black full-size Dodge Ram pickup truck.
By policy, Pinellas County Utilities employees do not enter customers' homes.  If  you  have any questions, call our Utilities department at (727) 464-4000. Detectives advise residents not to allow anyone to enter into their homes.
Residents who feel they may have been targeted by these suspects are encouraged to call the Pinellas County Sheriff's Office at 727-582-5200.
Contact Detective Weil of the Burglary and Pawn Unit at 727-582-5337 with information about this case. To remain anonymous and be eligible for a reward, contact Crime Stoppers at 1-800-873-TIPS or www.crimestoppersofpinellas.org.
---
The St. Pete Beach Awards
The St. Pete Beach Awards showcase the city's best of the best, voted on and chosen by the beach's visitors and residents! Nominations for the St. Pete Beach Awards began on January 1st and lasted until January 25th. The nominations were tallied up, the official nominee's were chosen and now is the time to cast your votes!
Click the button below for more information and to cast your votes.

---
Follow Us on Social Media
Make sure to follow us on Facebook, Instagram and Twitter so that you can always stay up to date with breaking news and updates about the 60th Anniversary events as well as daily city news and photos.