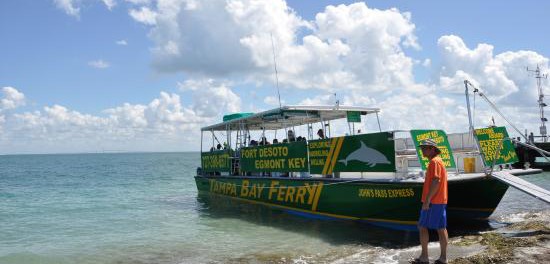 Egmont Key Ferry

The Egmont Key Ferry transports visitors from Fort DeSoto Park, the most southern point of Pinellas County, to Egmont Key State Park. The ferry to Egmont Key runs twice each day (10:00am and 11:00am) during the regular season (Feb 17 – September 7.) It returns back to Fort DeSoto at 2:00pm and 3:00pm.
The cost (now) is $20 for each passenger. You pay as you board the boat. Please make sure you bring cash. (If you go on the Egmont Key Walking Tour in the fall, you can get a discount.)
The ferry is about 46 feet in length and has both covered and open area seating. You can see everything from dolphins playing in the surf, to huge tankers coming and going from Port Tampa.
Leaving from Bay Pier Beach at Ft DeSoto Park, it takes about 15 minutes to reach the island of Egmont Key, a former military defense establishment, now a Florida state park.
The trip over is highlighted with a running narrative by the Captain, which is part historical…part comedy…with background music from an old Jimmy Buffet CD. (This was worth the price of the ticket, right here.)
Categories: Things To Do