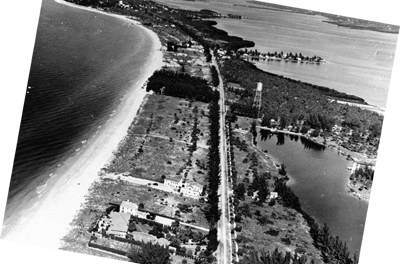 St. Pete Beach In The Early 1900's
St. Pete Beach Today
December 6, 2016
A History of St. Pete Beach, Florida
As more and more people ventured to the Tampa Bay barrier islands with their pristine sandy beaches, glistening fish filled blue Gulf waters, real civilization poked its head around the corner with a steady eye on the beaches.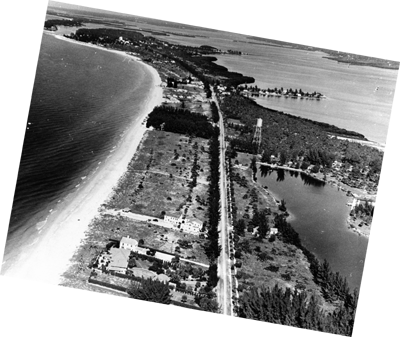 A brick road was built in 1916 by Pinellas County and stretched from Pass-a-Grille to Blind Pass. It was originally planned to connect with a bridge from the mainland but sat for many years mostly unused. This two lane narrow road was the forerunner to the now 6 lane Gulf Blvd, going over the same sandy road bed.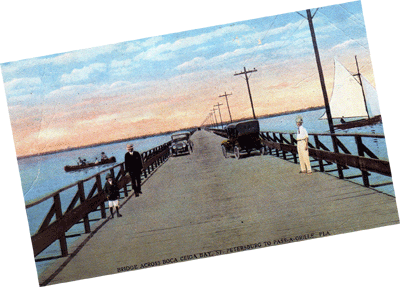 William McAdoo constructed the first wooden toll bridge from the South Pasadena shores to about 87th Ave. in 1918. This wonderful structure opened the islands up to really becoming a tourist vacation spot. No more heavy boat travel and as the Model t's and A's rumbled over the wooden planks, a trip to the beach became a household word to mainlanders!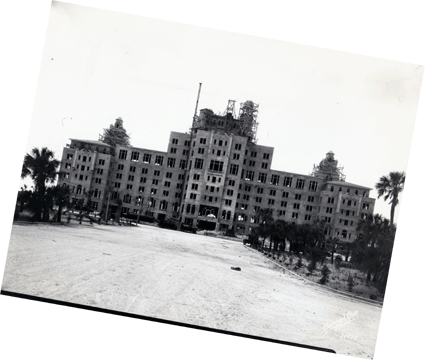 As the beach islands started to develop, adding small cottages, small businesses and a few permanent dwellers, a former contractor Thomas Rowe, began to build the Don CeSar Hotel in 1925. Completed and open to wealthy patrons in 1928, this 8 story concrete building became a landmark for the beach community. Painted a bright pink; Rowe named it and the land directly to the east after his favorite opera "Maritana," and the characters in the play. The Don's history tells us how the then "rich and famous" came to relax and be pampered along the peaceful beaches. (Later there will be story about the Don's lively background.) But even in those early days of beach life, the huge pink structure was known to be a mark for boaters way out in the Gulf, it's four towers reaching high and being a home marker long before GPS's came along! It certainly can boast being the very first "high-rise" hotel on the barrier islands!