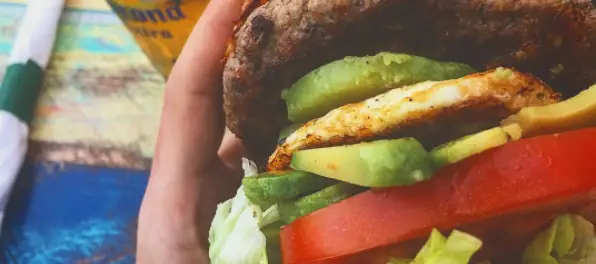 5 Great Burger Spots on St. Pete Beach
St. Pete Beach Today
March 28, 2017
Best Burgers on St. Pete Beach
Sometimes all you need in life is a big burger piled high with all your favorite toppings.
When good ol' Micky D's just won't cut it (which it never should), here are 5 local burgers that you must try next time you're on St. Pete Beach!
Smiley's Snack Shack on St. Pete Beach
A local spot that is most certainly a hidden gem, Smiley's Snack Shack is sure to please. You won't regret biting into this delicious "single" burger piled high with lettuce, tomato, pickles, onions, mushrooms and cheese. Did we mention that it's only $5? It also comes as a "Double", a"Triple", and oh yea… you can add bacon for $1 more!
---
Shark Tales Waterfront Restaurant on St. Pete Beach
Shark Tales Waterfront Restaurant is a favorite of  locals and visitors. With nightly live music underwater lights and a $5 Rum Runner, it's a great choice for the whole family. But that's not why they made our list of best burgers… "The Great White" is what has earned them a spot on our list.
"The Great White" is a hefty combination of 1/2 lb of blackened Angus beef topped with 2 fried eggs, bacon and Cheddar cheese. Thought we were done? Nope, all of that is placed between 2 grilled cheese sandwiches!
Feeling brave? Well why not grab a friend and try to defeat the Great White Challenge. All you and your friend will have to do is knock back 8 of the mammoth sized burgers!
---
Willy's Burger and Booze on St. Pete Beach
Willy's Burger and Booze is a local favorite for countless reasons but the Willy's Big Gooey Burger is what has landed them on this list. A delicious $5 Burger served with a side of tots and cold beverage is a must for anyone in search of a great meal on the beach.
---
Sandbar Bill's at the Bon-Aire Resort Motel
Another hidden gem on St. Pete Beach is Sandbar Bill's. Sandbar Bill's offers beach-side dining and a delicious burger that you can eat right on the sand! Located right behind the Bon-Aire Resort Montel, Sandbar Bill's is the perfect place to enjoy a great burger while you watch the sunset with your family and friends. Don't worry though,  if you get too stuffed to make it home, you can book a room and spend the night!
---
The Toasted Monkey Beach Bar and Sports Grill
Another local favorite is the Toasted Monkey. Here you will find a mouth watering burger appropriately titled… the "Hangover Burger". This delicious burger is usually served with an all chuck patty, a fried egg, bacon, crispy hash browns, cheddar cheese, jalapenos, tomato, and lettuce. If you're trying to justify this with  your diet… add some avocado and we won't tell anyone about the bacon.
---
The St. Pete Beach Awards
The St. Pete Beach Awards showcase the city's best of the best, voted on and chosen by the beach's visitors and residents! Nominations for the St. Pete Beach Awards began on January 1st and lasted until January 25th. The nominations were tallied up, the official nominee's were chosen and now is the time to cast your votes!
Click the button below for more information and to cast your votes.

---
Follow Us on Social Media
Make sure to follow us on Facebook, Instagram and Twitter so that you can always stay up to date with breaking news and updates about the 60th Anniversary events as well as daily city news and photos.