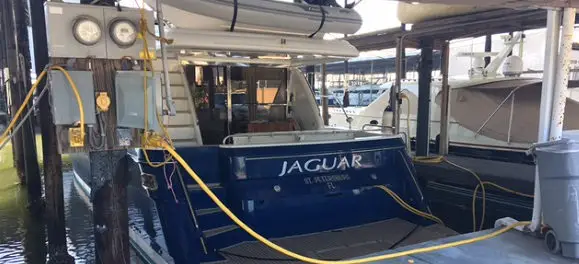 Body of Missing College Student Found
St. Pete Beach Today
March 23, 2017
According to authorities, the body of the missing Chinese college student that jumped off of the 'Jaguar' charter boat last week has been found.
Jie Lou, 21, was found by a boater on Wednesday evening. The boater said they noticed the body floating in Bunces Pass, just south of the Shell Key Preserve. Authorities recovered the body and later identified it as the missing college student.
The other missing boaters body was found on March 20th. The Sheriff's Office news release says that the body was reported floating about 3 miles west of Egmont Key on Monday. The body was identified as 27-year-old Andrew Dillman. Dillman was a crew member of the 'Jaguar' charter yacht, which was rented by 15 Colorado State University students on Tuesday March 14th. During the Charter five of the students jumped from the boat to swim and when one student (21-year-old Jie Lou) was seen struggling to return, Dillman jumped in to rescue him.
Authorities say that neither man wore a flotation device and were swept up in the strong currents in the area.
---
The St. Pete Beach Awards
The St. Pete Beach Awards showcase the city's best of the best, voted on and chosen by the beach's visitors and residents! Nominations for the St. Pete Beach Awards began on January 1st and lasted until January 25th. The nominations were tallied up, the official nominee's were chosen and now is the time to cast your votes!
Click the button below for more information and to cast your votes.

---
Follow Us on Social Media
Make sure to follow us on Facebook, Instagram and Twitter so that you can always stay up to date with breaking news and updates about the 60th Anniversary events as well as daily city news and photos.